Speak confidently and enjoy conversations with family and friends, transforming how you live with Parkinson's disease.
Communicate when you're ready to say something. The SpeechVive device is always on and ready to go, triggering your louder voice every time you speak.
Order Your Medicare-Covered SpeechVive Device Today
More than 90% of people with Parkinson's experience speech and voice changes.
Are you experiencing Parkinson's speech symptoms: low volume, slurred speech, and changes to speech rate? If so, you may have hypokinetic dysarthria, a speech disorder.
Do you frequently feel frustrated and socially isolated from your loved ones?
Voice changes can impact your ability to perform job duties, talk on the phone and have conversations with friends and family. These changes cause increased frustration with your communication and lead to isolation and withdrawal.
Over a decade of research shows that your speech volume and clarity can improve by targeting increased speech volume or loudness. SpeechVive, a Parkinson's speech device does precisely that – targets speech volume just like the other leading Parkinson's speech therapy programs.
Is SpeechVive Right For You?
SpeechVive tunes to your voice.
When you speak, the SpeechVive plays a "babble" sound cue in your ear.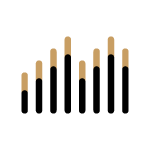 The cue triggers your reflex to speak louder as sound around you increases.
You automatically speak 50-75% louder than your typical speaking volume.
When you're not speaking, the SpeechVive device is silent, allowing you to hear your conversation partners and everything going on around you.
Video: How does a speech gadget help my voice?
You no longer need a speech coaching model or intensive weeks-long voice therapy programs to get the results you want.
Like traditional speech therapy programs for dysarthria, SpeechVive is accepted by most insurance providers, including the Veterans Administration and Medicare.
Order Today
Customer Profile
Donna was diagnosed with Parkinson's while she was still a young mom. Now, she's a grandmother and loves spending time with her grandson. Donna stays active with her friends and in her Parkinson's exercise group.
"It's just automatic, it's MY voice! I went out to dinner over the weekend with a group of friends. Even my friend who is hard of hearing could hear me. That's a big deal."
Learn If SpeechVive Is Right For You